OUR APPROACH
Our working approach at FTC is firmly focused on the client experience. From beginning to end, our team ensures that all client needs and expectations are exceeded through every step of the project cycle.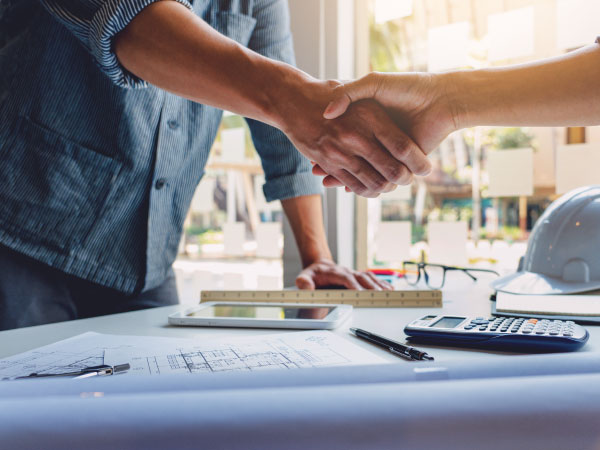 Preconstruction
During the preconstruction phase, we will work with you to formulate a detailed plan of action for the proposed work. Our experienced estimators draw on years of relationship-building with trusted subcontractors in the Ottawa-Gatineau region to provide you with the most accurate estimates.
Our health and safety auditor works closely alongside the estimating department during this phase to guarantee that all health and safety precautions are considered and included from the very beginning.
Project Management
When starting a project, we have rigorous in-house procedures to ensure the entire team is well-briefed on every detail and is prepared for mobilization. During mobilization, FTC's health and safety specialist remains onsite with the project team to verify that the most stringent controls are applied to mitigate any risks associated with jobsite hazards.
To streamline our process and ensure that our time and energy is focused where it matters most – on your project – we have implemented innovative digital tools to facilitate reliable communication in real time between our team and our clients. These tools enable us to keep on top of daily site activities, address any issues or concerns promptly, and provide timely updates to our clients about their project's status and progress.
FTC uses Procore's industry leading and award-winning software for accounting and project management. Procore empowers our project staff with total control and visibility over every aspect of the project, from initial planning to project execution and beyond. This software also affords FTC clients the ability to request up-to-date documentation on their project, including communication reports, site reports, and budget and cost reports. Our company was initially using a different software, however, based on feedback from our team in the field we moved to Procore. This move was influenced by our desire to utilize the most cutting-edge software available to ensure a superior experience for our clients, as well as find the best tools to support and optimize our team's work.
SiteDocs is a safety management software that ensures the highest health and safety compliance at every level of the project. By eliminating physical paperwork, this digital tool reduces the risk of errors and allows our team to create and distribute documents and then track their completion in real-time. SiteDocs also provides detailed data reports for us to regularly monitor, identify, and quickly address any gaps in our health and safety system.
Health and Safety
The safety of our team members, our clients, and our projects is paramount to us. We are fully committed to our Health & Safety program, which was thoughtfully designed to ensure project and personnel safety without compromising on efficiency or quality.
We are in the final stages of completing the COR™ 2020 national accreditation standard, a certification that will set us apart from the competition today. While the certification will be an industry prerequisite by 2025, with our proven commitment to health and safety we were eager to get certified as soon as possible. By achieving COR™ 2020, our workplace will be known to have fully implemented an accredited Occupational Health and Safety Management System (OHSMS), recognized by the Ministry of Labour, Training and Skills Development and the Workplace Safety Insurance Board.